Are you ready to take off to the dazzling world of fabulous penthouses and lavish resorts? We all need an occasional break from the everyday hustle and bustle and basking in vivid images of the most expensive hotels out there is certainly one of the best ways to go. 
The Plaza, New York City
We start out countdown with a classic. With its bedazzled interior, the Plaza stands as one of the top choices for VIPs, the most expensive room being the Royal Three Bedroom Suite. This breathtaking piece of lux accommodation was constructed in 1907! It is reminiscent of the old world charm, with its spacious dining room that welcomes up to 12 guests, a movie-like library, private gym, a grand piano for any visiting virtuoso and topped with an entire kitchen for the VIP's personal chef. Oh, did we mention the private elevator too?
Burj Al Arab Hotel, Dubai
As one of the most photographed hotels in the word, Dubai's Burj Al Arab Hotel was bound to end up on our list. With its out-worldly architectural design, this hotel resembles a large sail. Still, it is its out-worldly guest service that also qualifies it as one of the most exceptional hotels in the world. We cannot decide what we would enjoy more: the in-suite check-in, the 24/7 butler service or its Rolls Royce fleet, each designated for respective VIPs, which,  by the way, very often includes royalty!
The Westin Excelsior, Rome
Having been built in 1906, the Westin Excelsior Hotel is both the Plaza's peer and a well-known lux ornament of Rome. The hotel combines classical architecture and hand-painted cathedral-like domes with modern amenities such as private fitness areas, enormous jacuzzis and even formal dining rooms. The largest suit of this hotel spans two entire floors, but, interestingly enough, the Westin Excelsior also offers somewhat affordable rooms too!
Atlantis Paradise Island, Bahamas
The destination itself irradiates luxury, so the Atlantis Paradise was surely built to embody that spirit. Built as a tribute to the ancient city of Atlantis, this lavish resort spans 141 acres of pure hedonism. However, its most renowned facility is most certainly the Bridge Suite with its 10 rooms adorned with full-length windows and impressive 3.5m ceilings. The suite also comes with its own entertainment centres, 7 personal butlers that cater to your every need and a breathtaking formal dining room which could hardly go unnoticed with a 22-karat gold chandelier towering the space. 
Conrad Maldives Rangali Island
Another tropical destination – this time underwater! The Conrad Maldives stands as one of the most unique lux hotels on our list! Though its numerous top-tier restaurants, personal butler service and private jet skis are more than enough to convince VIP's to pay this hotel a visit, the main attraction is definitely its two-level suite with a bedroom almost 5 meters under water with ceiling-high windows which allows you to see the island's marine life up close!
Taj Lake Palace, India
Have you ever wanted to stay in the Taj Mahal? As an important landmark (and also a tomb), that is not exactly possible. However, the next best thing is the breathtaking Taj Lake Palace – a floating hotel in India which has a history that is just as illustrious! The structure was built back in 1746 and has been fully preserved to this day and even immortalized in one of the older James Bond movies! Apart from its grand suites, lavish rooms, exceptional restaurants, the hotel also offers Indian aromatherapy that actually takes place on a floating wooden vessel, for a complete relaxation experience.
The Boulders, Arizona
Though we usually associate luxurious hotels with golden railings, shiny marble-floored lobbies and two-floor penthouses, the Boulders Hotel goes against your expectations and boasts breathtaking nature around it as its main asset: primarily its surrounding rock formations that are over 12 million years old! This enormous resort is located in deserty Arizona and is a synonym for a rejuvenating spa getaway with luxurious treatments, golf courses private villas built for VVIP'S whose names allegedly are not allowed to be shared until they've passed away!
Amilla Glamping, Maldives
The Maldives earned another spot on our list owing to another examples of state-of-the-art accommodation. The Amilla Glamping Resort is situated in the middle of a tropical paradise that happens to be a UNESCO World Biosphere Reserve, with blooming flowers and white sand beaches. However, its key asset are transparent bubble tents with climate-control and 360 degree views of untouched nature, for glamping enthusiasts. If you're not the one for camping, there are 200 sq meter villas at your disposal!.
Raffles Singapore
If you ever wondered what 19-century luxurious hotels looked like, the response is: just like they were described in many renowned novels at that time! And it's no wonder – ever since its opening in 1887, the Raffles Hotel in Singapore welcomed many famous authors such as Joseph Conrad, Rudyard Kipling and Somerset Maugham! Apart from its stunning architecture, this hotel is famous for its – not one, but several – Michellin-starred restaurants like Alain Ducasse and Anne-Sophie Pic. Needless to say, a visit to this hotel would be both picturesque and a spa for your taste buds. 
Giraffe Manor, Kenya
Imagine if your visit to a lavish hotel included a casual hang out with actual giraffes – and for a lovely cause! The Giraffe Manor combines luxurious suites, four-poster beds and spacious balconies that oversee a field of rare Rothschild's giraffes that you can feed! Worried if the proximity affects the giraffes or if the giraffes are kept in uncomfortable captivity? All is well! The hotel is actually the official collaborator of the African Fund for Endangered Wildlife and is helping with the giraffes' conservation, providing them with natural, open space! In other words, by visiting this lush hotel, you're also supporting a wonderful cause!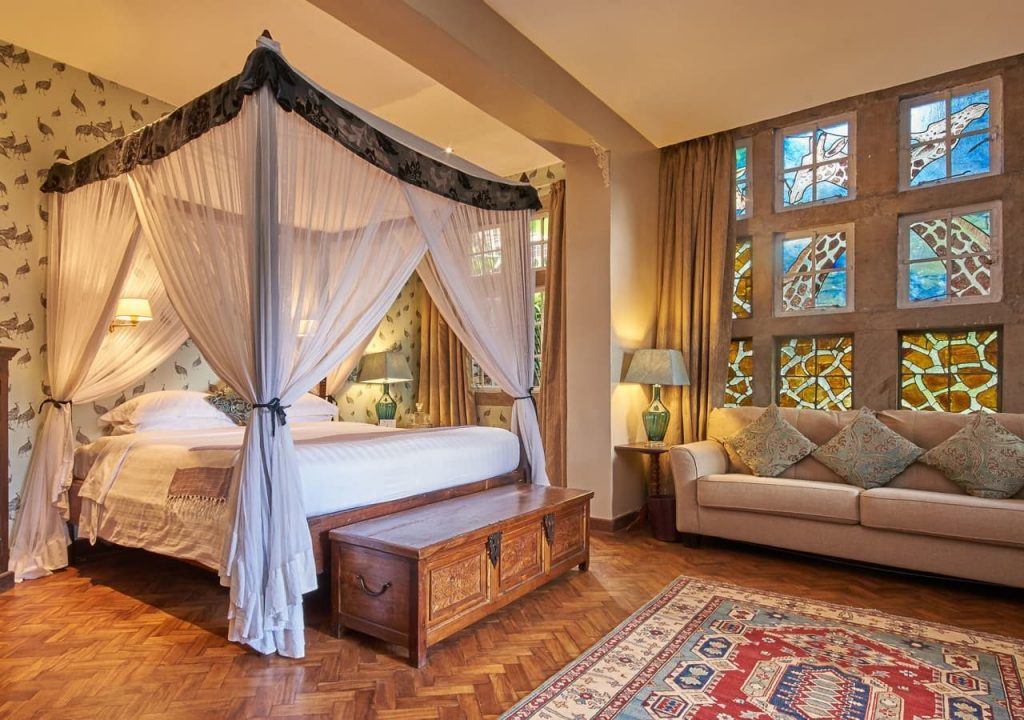 Whether you are a fan of tropical destinations or classic urban luxury, it seems that the hotel industry has it all covered, offering services from our wildest dreams! Can you pick a favorite? Or at least your top three favorites? These unparalleled examples of lux accommodation are bound to inspire anyone to set off to new destinations, even for business. Once you're ready to go, make sure to visit dibtravel.com and book a business trip of your dreams.
For more useful updates from DIB Travel, follow us on LinkedIn, Facebook and Instagram!
And for more interesting DIB Travel articles you can visit our blog.